NEVADA SHORT SALE HELP
"IN THE LAS VEGAS REAL ESTATE MARKET, YOU DON'T NEED A SALESMAN...YOU NEED AN ADVOCATE."
THE MYERS TEAM
Nevada's #1 Short Sale Team
Do you want to short sale your Las Vegas home without worrying about your lender coming after you for a deficiency judgment?
Are you sick and tired of making payments on a home that may never be worth what you paid for it? Have you been turned down for one of those ridiculous loan modification programs?
If you're considering the possibility of doing a short sale, then this web site will provide you with valuable information to help explain your options and answer your short sale questions and concerns. You DO NOT need to be poor or broke to qualify for a short sale. Banks approve short sales when they believe a hardship situation exists, however, hardship is not solely determined by how much money a person earns...it also factors in a person's expenses, especially if expenses have increased and income has decreased.
Additionally, you DO NOT have to pay anyone to do a short sale. A Realtor experienced with the short sale process is able to obtain a full waiver of deficiency from your lender. How do you choose the right person to short sell your home? Should you hire the company with the most billboards around town, or the person with the most commercials on the radio or TV? Wouldn't it make more sense to choose the Real Estate team who has successfully closed the most short sale transactions in Las Vegas?
A recent report named The Myers Team the #1 Short Sale Realtors in Nevada.* Number one status was determined by actual short sale listings closed from January 1, 2007 through December 31, 2012. The Myers Team has successfully closed more short sale transactions and negotiated more short sale approvals than any non-lawyer affiliated Realtor or Broker in our state.
Our resources include a team of experienced short sale processors in addition to direct access to Nevada licensed attorneys. This allows us to stay up to date on the laws affecting short sales, and the rapidly changing guidelines and procedures of banks and their investors. Additionally, our preferred escrow and title partners have extensive expertise in processing and closing short sale transactions not only in Nevada, but nationwide. This allows us to leverage their relationships with the major banks to get our files processed in the fastest possible time frame and escalated when necessary.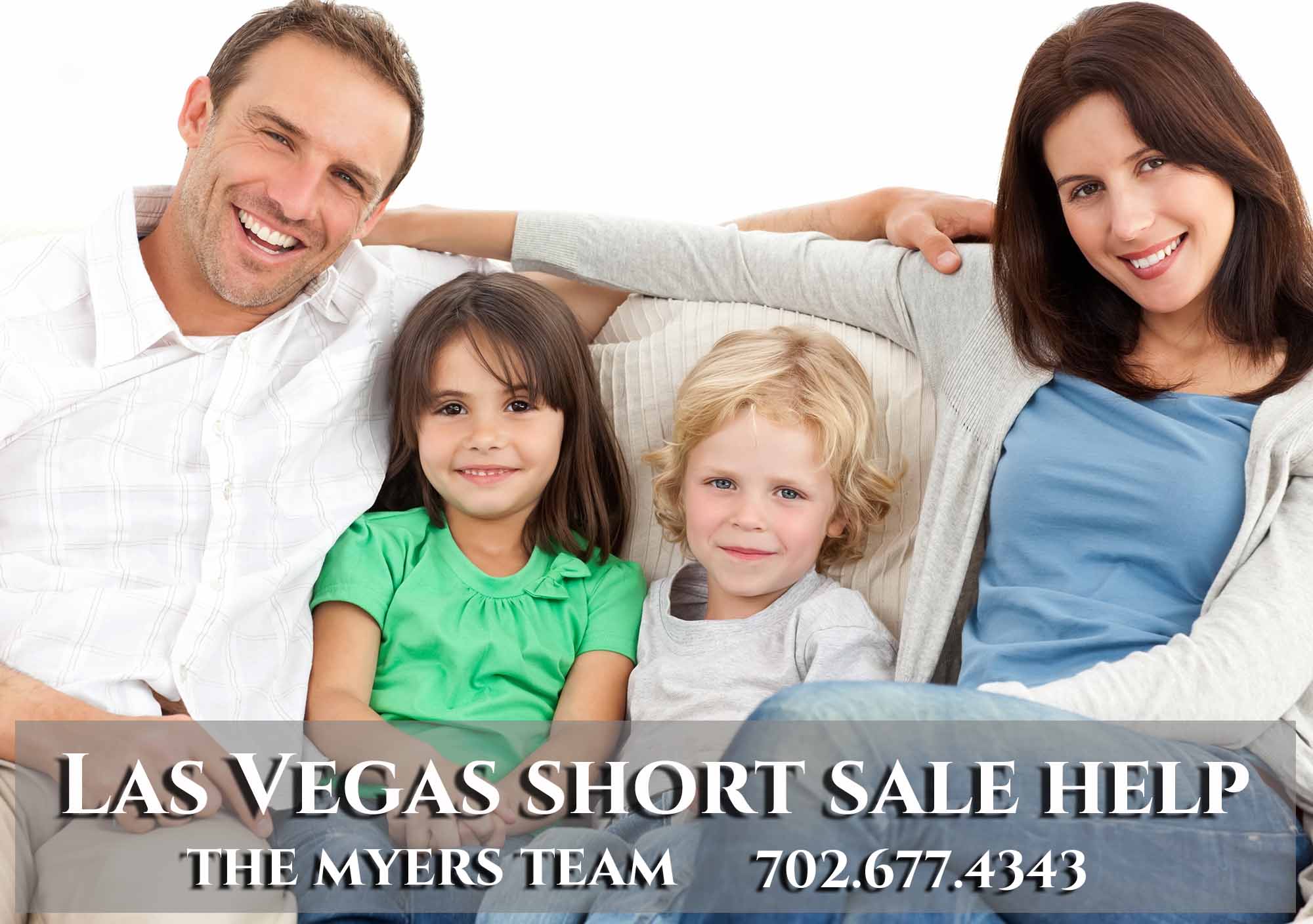 Get Paid $10,000 To Short Sale Your Home?
Effective February 1, 2015, homeowners who qualify for a HAFA short sale may receive up to $10,000 in relocation assistance. The first sentence of section 12.1 Chapter IV of the Making Home Affordable Program (MHA) handbook has been amended as follows: "Upon the successful closing of a short sale, a borrower, tenant or other non-borrower occupant who occupies the property as a principal residence and is required to vacate as a condition of the HAFA short sale shall be eligible to receive relocation assistance of $10,000 per HAFA transaction (regardless of the number of occupants who will vacate), subject to the requirements in Section 6.2.5."
This Supplemental Directive (14-04) increases the amount of relocation assistance to $10,000 for HAFA short sales that close on or after February 1, 2015. HAFA short sales that closed prior to February 1, 2015 were only eligible to receive $3000. There has never been a better time to do a short sale. If you are interested in applying for a HAFA short sale, please contact The Myers Team. Additionally, for specifics regarding HAFA program or Making Home Affordable Program Guidelines, please refer to the following link: Making Home Affordable Update
Mortgage Forgiveness Act of 2015?
In 2007, Congress passed the Mortgage Forgiveness Debt Relief Act to help people who were down on their luck financially because of the loss of their homes. The tax break was supposed to end in 2009, however, it was extended through Dec. 31, 2013 because many people still needed help. As of today, Congress has allowed the Mortgage Forgiveness Act to expire, even though some states hardest hit by the housing crisis (such as Nevada) are still seeing high foreclosure rates
Many people have argued that the Mortgage Relief Act should be extended once again, however, it is unclear if this will be happening anytime soon. The big question we are being asked is, "Will I have to pay taxes on the forgiven amount?"
While we are not CPA's nor qualified to provide tax advice, the fact remains that we have worked with hundreds and hundreds of homeowners who have successfully completed short sale transactions. Many past clients have informed us that they were able to get around owing taxes on their forgiven debt by qualifying for what's called the "insolvency exclusion." You may not have to include forgiven debts as income if you can show that your total liabilities exceed your total assets.
Most banks will only approve a short sale once they have determined that a "hardship situation" exists. Many of these hardship scenarios may also qualify for insolvency. Once again, the above is not intended as tax advice, however, there are provisions in the IRS tax code which may provide the same protections as were allowed under the Mortgage Forgiveness Debt Relief Act. There is still hope!!!

Las Vegas Top Short Sale Realtors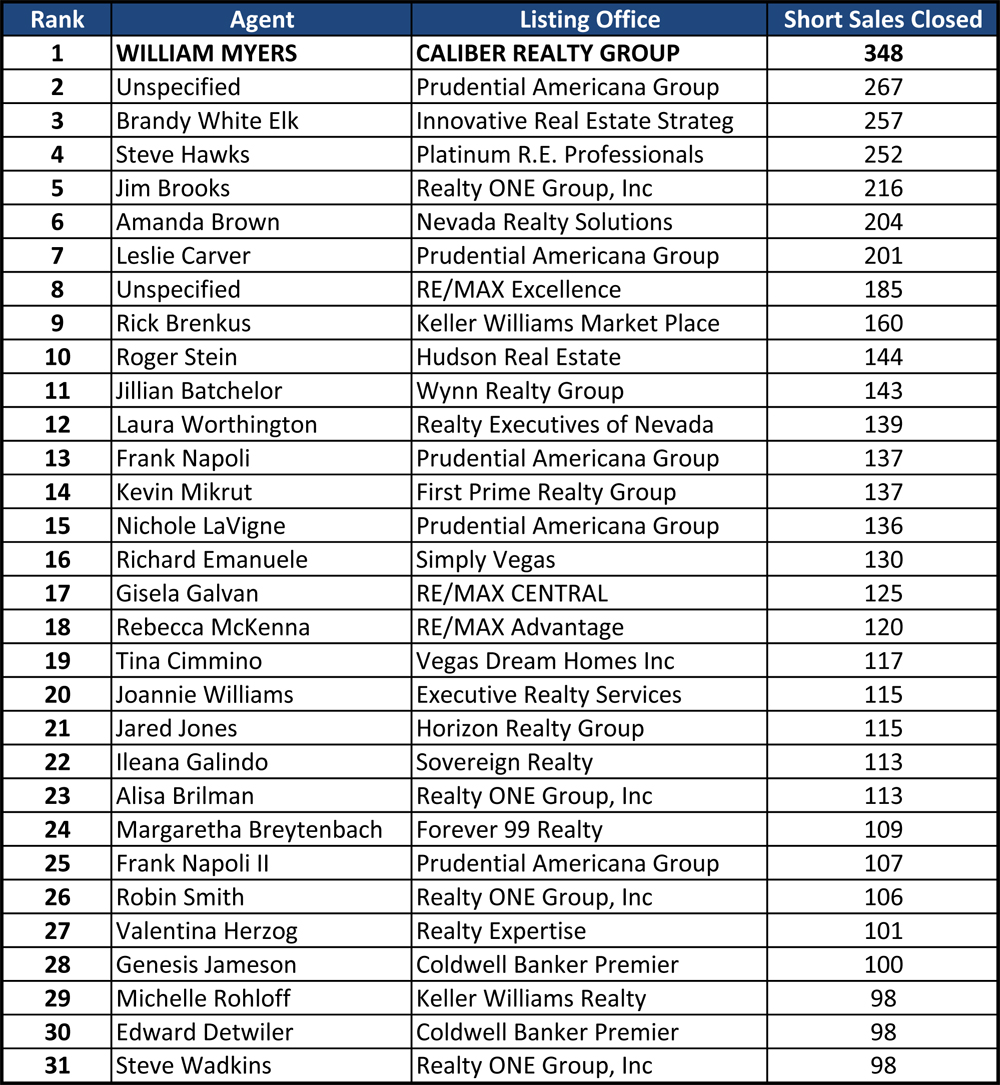 *Above production is based on results from January 1, 2007 through December 31, 2012 (short sale listing ends only from non-lawyer affiliated Realtors and Brokers.) The information provided is obtained from public records, it is deemed reliable but not guaranteed.
Should I Short Sale My Home?
Surrendering a home worth half of what you owe is NOT a failure, it's a business decision. Facing the truth is sometimes the most difficult thing a person can do. A short sale is NOT the end. It's an opportunity for you and your family to TAKE CONTROL and WALK AWAY FREE AND CLEAR. When you do nothing, you feel overwhelmed and powerless, however, when you do a short sale, you feel the sense of hope and accomplishment that comes from knowing you are working to GET YOUR LIFE BACK ON TRACK.
Nobody wants to lose their home, however, there is no need for you and your family to go down with a sinking ship. Know when to say enough is enough. Sometimes you have to take a few steps backwards to move forward correctly. Your mortgage obligation doesn't need to be a prison sentence. Additionally, a short sale will MINIMIZE DAMAGE TO YOUR CREDIT. If you are not sure what a short sale is, then click the following link to watch a brief CBS News short sale video which explains the benefits of a short sale.
Many have attempted to save their home through loan modification, however, homeowners have come to realize that LOAN MODIFICATION PROGRAMS JUST DON'T WORK. In 2011, the Federal Trade Commission banned loan modification companies from charging up-front fees for negotiating modifications of residential loans. The loan modification industry has been extremely misleading for homeowners. Government assistance programs such as HAFA, HARP, HAMP, HOPE NOW, and the Making Homes Affordable Program have been complete failures due to the fact that bank participation is voluntary. According to the Las Vegas Review Journal, "Most homeowners in Las Vegas are so far upside down on their homes, (owing significantly more than their home is worth) that they don't qualify for the government's $75 billion Home Affordable Mortgage Plan." Nevada is currently ranked #1 in foreclosures and has the highest unemployment in the nation. Most experts predict that it will take a very long time for the Las Vegas economy to rebound.
THERE IS NO GOVERNMENT PROGRAM THAT FORCES LENDERS TO MODIFY YOUR LOAN. According to the Attorney Generals office, money spent by homeowners on mortgage modification is "worse than some of the odds at the casino tables." Simply put: Banks are not motivated to modify your loan. It's a sad fact that it remains more profitable for Banks to foreclose, and throw a family out on the street than approve a loan modification. Banks do NOT care about your financial dilemma...they only care about bottom line profits and their stock value. Since Banks are looking out for their own financial best interest, shouldn't you do the same?
In this challenging Real Estate market, you don't need a salesman...you need an advocate. Let the experience of The Myers Team with Simply Vegas Real Estate go to work for you. Whatever your reasons are for selling, our experience with short sales, and our track record for getting them approved will ensure that your home gets sold. LET US TAKE AWAY YOUR STRESS and GET BETWEEN YOU AND YOUR BANK. Please be advised that Banks are NOT your friends. Bank are debt collectors and do not represent you. Anything you say to a Bank is being tape recorded and any document you send a Bank may be used against you to collect the debt. If your home is currently in default, or if you are about to fall behind on your mortgage payment, contact us right away. YOU HAVE OPTIONS. If your home has become the single greatest source of stress in your life, then a short sale may be the best option for you and your family.
Nevada's #1 Short Sale Team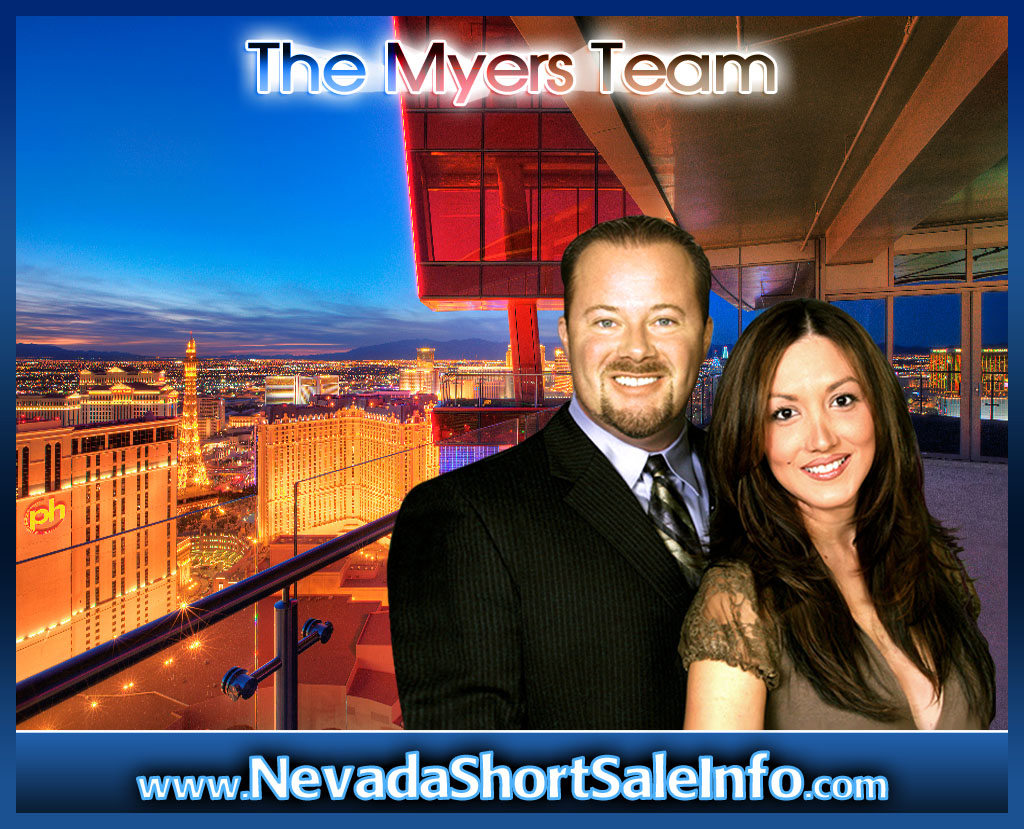 Do I Need A Lawyer For My Short Sale?
Should I Consult a Nevada Real Estate Attorney?
Billboards have been popping up all over Las Vegas from local attorneys advertising their short sale services; however, are homeowners really better off using an attorney versus using a Realtor to handle the short sale of their home? You should NOT short sale your home until you have all the facts and understand your options.
You do NOT have to pay anyone to do a short sale. A Realtor experienced with the short sale process can obtain a full waiver of deficiency from your lender.
Some attorneys are using scare tactics in their advertising campaigns implying that Realtors may not know the laws and repercussions of short sales, however, this is not an accurate representation of the truth. In order for Realtors to practice short sales, they must be licensed by the state of Nevada. Every Realtor's license has been approved by the Nevada Real Estate Division and the testing to obtain a license is quite extensive. So why would you pay a Nevada attorney thousands of dollars to handle your short sale when you can get your deficiency waived for free?
Before you hand over your hard earned dollars to a Nevada Short Sale Attorney, consider the following; will the attorney guarantee their services and pay you a full refund if they fail to get your short sale approved or your deficiency waived? If you meet with an attorney who won't agree to refund your money, GET UP AND LEAVE! While there are many respectable and ethical attorneys out there, you must educate yourself and not place your unconditional faith in someone who stands to make a handsome profit from your bad situation.
When you hire an experienced Realtor to do your short sale, there should be NO upfront fees. An experienced Realtor can obtain a full waiver of deficiency without charging you a dime. There is no attorney or Realtor who can guarantee the bank will waive the full deficiency amount, since each borrower's financial situation is different; however, there has never been a better time to do a short sale. Many banks are now waiving their right to pursue deficiency, and some banks are even offering "cash back" to homeowners as an incentive to short sell.
In the event you choose to use a lawyer to handle your short sale, they will still need to work with a licensed Realtor to list the property, market the home and find a buyer. If you hire an attorney to do your short sale, YOU HAVE THE RIGHT to choose your own Realtor. Sometimes, attorneys recommend Realtors to list your home; however, are they recommending the Realtor because they're receiving a kickback from the Realtors commission? Some Realtors eagerly work with attorneys and offer them part of their commission in exchange for the listing. While this is a great way for a less-experienced Realtor to get business, (and a great way for an attorney to make extra income) the fact remains that you deserve to be represented by an experienced Realtor of your choosing.
In these tough economic times, many attorneys are experiencing a decrease in clients, and are looking for ways to generate additional income. Attorneys, who have never offered short sales as one of their services, are now jumping on the bandwagon and offering to do short sales for their clients. Times have gotten so tough for lawyers that even accident attorneys are now advertising Bankruptcy and Short Sale Services. Using an attorney instead of a Realtor to facilitate a short sale is a concern for several reasons: First of all, do you really think the attorney you hire is going to personally answer your calls throughout the transaction or make your short sale their top priority? Are they going to do the work themselves, or will they hand it off to their office assistants and paralegals? Some attorney's will even charge you for each phone call or email you send. Many attorneys will not even make the time to meet with you personally. Are you prepared to spend $2000 - $5000 to hire a junior paralegal assistant to protect your family with no guarantee that your deficiency will be waived?
Additionally, if you speak with a bankruptcy attorney, they are undisputed experts at helping you go bankrupt; however, they also make their living by convincing you to file bankruptcy. Going bankrupt instead of trying a short sale is like cutting your hand off because of a hangnail. Bankruptcy is always an option, however, NOT always necessary.
We at The Myers Team are NOT Attorneys nor qualified to offer legal advice, however, we are the most experienced short sale Realtors in the city. Our service is 100% guaranteed, meaning if the bank rejects the short sale for any reason, you do not pay us a dime. Our loyalty is to our clients. Why pay for an expensive Attorney when you can be backed by the experience, knowledge and negotiating power of the Myers Team with no out of pocket expense.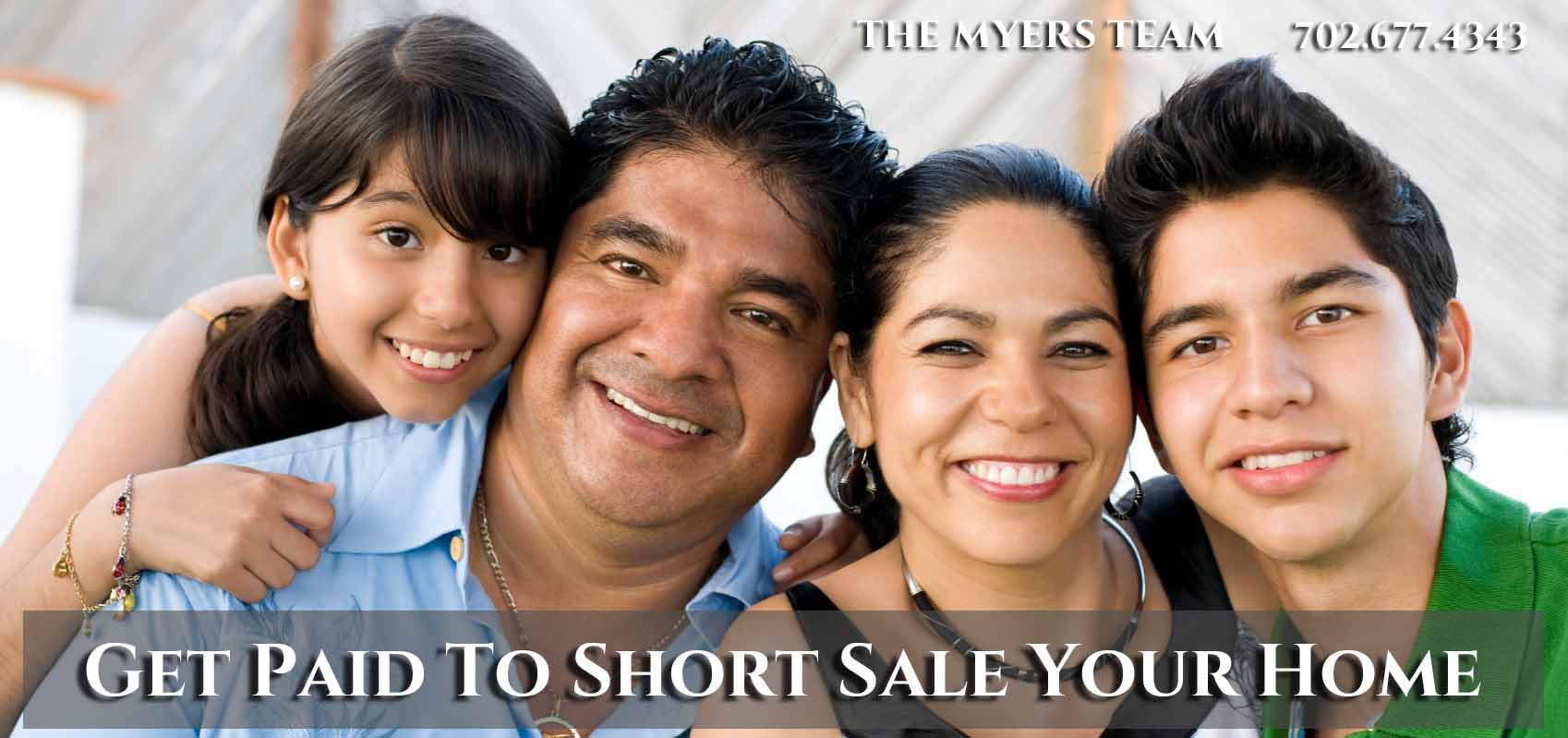 Can I Stay In My Home After The Short Sale?
Can I Short Sale and Buy It Back?
One of the most common questions we're asked is, "Can I stay in my home after the short sale is complete?" Many Realtors and even some Attorneys claim they can sell your home to an investor (i.e. Cash Buyer, Non-Profit Buyer etc.) who will allow you to "lease back" your home as "tenants" after the short sale is finalized...or even provide the opportunity to "Buy It Back" after three years. Who wouldn't want to take advantage of a program like this? Staying in your home could avoid the inconvenience of moving, moving expenses, etc. While this may seem like an intelligent solution, IS THERE A CATCH?
While some people are attracted to the idea of "staying in their home," it's important to avoid spending thousands of dollars on programs you may not even qualify for. Additionally, don't get taken advantage of by someone who knows you may be emotionally attached to your home and wants to profit from your misfortune. For example, it wasn't long ago that hundreds of thousands of Nevada homeowners spent millions of dollars on loan modification programs that failed to deliver. In fact, nearly everyone in Las Vegas has a friend who spent thousands to modify their mortgage, yet winded up losing their home to foreclosure instead. Don't be fooled by advertising gimmicks. Before paying an Attorney or Realtor for something you may not qualify for, know the facts and do your research. Most importantly, whomever you hire to do your short sale (Realtor or Attorney), will they agree IN WRITING to refund your money if you don't qualify for the "HAFA Buy It Back Program?" IF NOT, GET UP AND LEAVE!
While laws have prohibited such occurrences from happening, an amendment was made to the Making Home Affordable Program that allows a Non-Profit Organization to buy a home, and then resell or lease the home back to the seller. Section 7.3 of Chapter 4 of the Home Affordable Foreclosure Alternatives Program (HAFA) provides the clause which allows a non-profit organization to buy and rent back as long as all other HAFA requirements are met. As with most things sounding, "too good to be true," the devil is in the details. Here are a few things to research before considering a program like this:
1) The ability to participate in this program applies ONLY if you qualify for a HAFA short sale. Many people in Nevada DO NOT qualify for HAFA short sales. For example, if you purchased your home by obtaining an FHA or VA loan, you may not qualify for HAFA. Additionally, this program is SUBJECT TO APPROVAL BY THE SERVICER AND INVESTOR. This means that "IF" you qualify for HAFA, your bank must still approve the sale to a non-profit organization. It is NOT a guarantee and is at the Servicer's sole discretion. (Please refer to section 7.3 of Chapter Four of the Making Home Affordable Supplemental Directive 11-02: otherwise known as directive 1102)

2) Non-Owner Occupied Properties may not qualify for HAFA. Therefore, if you purchased your home as an investment, you may not be eligible for this program.
In most short sale transactions, banks will require the Seller to sign a notarized affidavit stating that the homeowner is "not allowed to rent back the home from the new owner(s)." The short sale approval letter is issued after the homeowner agrees to these terms in writing. Violating these terms may be construed as "fraud" by the Sellers lender and could result in litigation or even the reversal of the short sale.
While there may be some exceptions to this rule, most major banks, (i.e. Bank of America, Chase/JP Morgan, Wells Fargo, Citi, Seterus, GMAC/Ocwen, Greentree, PNC, etc.) will require this affidavit signed by the homeowner before granting short sale approval. There are some Buyers, Realtors and even Attorneys out there who may offer you the opportunity to rent back the home from the new owner(s) however, please be advised that this decision could result in serious consequences. Unfortunately, if something sounds too good to be true, it may be an advertising gimmick designed to get your money and take advantage of your bad situation. If you have any doubts, you should talk directly to your Bank and ask them if they will allow you to remain in your home as a tenant after your home is sold and the short sale is complete. If it is allowed, be sure to get something in writing, for your own protection.
Here is the actual verbiage contained in the short sale affidavit's and/or short sale approval letters from several major banks:
BANK OF AMERICA
"The Parties acknowledge and agree that neither the Buyers nor the Sellers nor their respective Brokers/Agents have any agreements written or oral that will permit the Seller or the Seller's family member to remain in the property as renters or regain ownership of said property at any time after the execution of the Short Sale transaction. This includes if the seller is retaining a direct or indirect ownership or possessory interest in the property and/or has a formal or informal option to obtain such as interest in the future."
WELLS FARGO
"Neither the Buyers, or Sellers, nor their Agents have any agreements written or implied that will allow the Seller to remain in the property as renters or regain ownership of said property at anytime after the execution of this Short Sale transaction."
CHASE/JP MORGAN
"There is no agreement, whether oral, written, or implied, between the Seller and the Buyer and/or their respective agents that allows the Seller to remain in the property as a tenant or to regain ownership of the Property at any time after the consummation of this sale transaction."
CITI
"There are no agreements, understandings or contracts between the Seller(s) and the Buyer(s) that the Seller(s) will remain in the Property as tenants or later obtain title or ownership of the Property, except that the Seller(s) are permitted to remain as tenants in the Property for a short term, as is common and customary in the market but no longer than ninety (90) days, in order to facilitate relocation."
SETERUS, OCWEN & GMAC (*all contain identical verbiage)
"There are no agreements, understandings or contracts between the Seller(s) and Buyer(s) that the Seller(s) will remain in the Property as tenants or later obtain title or ownership of the Property, except that the Sellers(s) are permitted to remain as tenants in the Property for a short term, as is common and customary in the market but no longer than ninety (90) days, in order to facilitate relocation."
Myers Team Short Sale Services Are Free
You Should NOT Have To Pay Broker Transaction Fees in a Short Sale
You DO NOT have to pay anyone to do a short sale. In a short sale transaction, the Sellers lender pays the Broker fee (Real Estate Commission) since the Seller is experiencing financial hardship, however, there are many well-known Brokers out there charging EXTRA fees to homeowners to maximize their profits despite your bad situation. These extra fees are typically called "transaction fees" (sometimes referred to as a document fees, storage fees, compliance fees, etc.) and usually range between $300 to $700 and more. While these fees are legal, the fact remains that this type of fee is NOT normally paid for by your lender and comes out of YOUR pocket. Most homeowners needing to short sale their home are experiencing hardship and the LAST thing they need to do is pay extra fees.
Why do Brokers charge transaction fees? According to NRS, Real Estate Brokers are required by law to save the paperwork from each transaction for several years (the length of time required for each state is different.) Brokers charge these fees to offset the expense for storing these documents, however, most Brokerages are now "paperless" which means they have the ability to scan paperwork and store it electronically. Additionally, Buyers and Sellers are charged equal fees for the same transaction, which means that Brokers are actually earning an additional $600.00 to $1400.00 per deal on top of the real estate commission. Does it really cost this much money to store a file consisting of 100-200 pages? Even the most expensive external hard drive costs less than this, and can store thousands of files.
Some Brokers claim that the fee is charged to offset the cost of providing their agents with the necessary forms for each transaction and printing expenses, however, this is not an accurate representation of the truth. Most real estate forms are available online and most Brokerages require their agents to download the forms and print them for each respective deal. Since a typical real estate transaction consists of less than 200 pages, the transaction fees being charged by Brokers seems excessive considering a ream of standard white printer paper costs less than $5.00 and black and white copies average less than ten cents per page.
The Myers Team will NOT charge you junk fees to short sale your home. The only thing you pay for is the moving truck. When interviewing Realtors to short sale your home, ask them how much their Broker charges for transaction fees and have them explain what the fees are for. Homeowners facing foreclosure need serious help and professional representation, not extra fees. Beware of the fine print!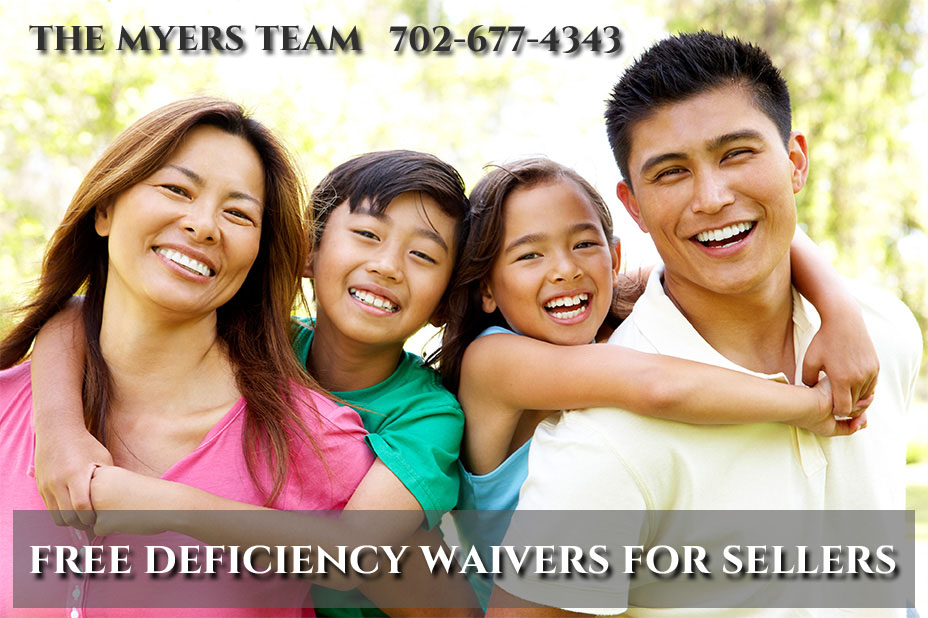 It's 6 A.M. Do You Know Where Your Realtor Is?
The workday for The Myers Team begins at 5a.m. The reason for this is simple. The loss mitigation departments for most major banks and their investors (i.e. Fannie Mae, Freddie Mac, Ginnie Mae, FHA, VA, Bank of America, JP Morgan, etc.) are located on the East Coast, which is three hours ahead of Nevada. At 6a.m. in Las Vegas, it's already 9a.m. in New York, Virginia, North Carolina and Washington DC.

While most Las Vegas Realtors and Attorneys are still sleeping, The Myers Team is at the office, and on the phone negotiating your short sale approval. Additionally, The Myers Team work Saturdays too. This is because the majority of bank loss mitigation departments also work on Saturday.
Las Vegas is known as a city that never sleeps, however, Nevada homeowners facing foreclosure may find it hard to sleep due to the stress of their financial situation. This is why you need representation from a short sale agent who works full time and has the experience and knowledge to protect you. Additionally, not all Realtors are the same. If you hire a Realtor who spends all day in their car driving buyers around, how will they be able to devote their time to your short sale by making the follow up phone calls required to obtain an approval? In order to negotiate the best possible approval terms, including getting the Seller's lender to agree to waive the deficiency amount, this takes a tremendous amount of time, perseverance, follow up and experience. The Myers Team specializes in Seller representation. In a city with all-night hotels, casinos, restaurants, pharmacies, markets, etc., you need a Real Estate company who is available to answer your questions around the clock including weekends. Las Vegas is NOT a 9 to 5 city. Why would you hire a 9 to 5 Broker?
Nevada Short Sale Laws
Most short sale information available on the Internet is worthless. Each state has different laws regarding foreclosure and the short sale process. Many people do not understand Nevada Short Sale Laws and most people do not understand the difference between a Short Sale vs. a Foreclosure in Nevada. Doing a short sale will minimize damage to your credit, and enable your family to get a FRESH START. Allowing your home to foreclose WILL result in maximum devastation to your credit. Additionally, you may get sued by your bank or face a judicial foreclosure. When a home is foreclosed upon in Nevada, the bank has deficiency rights. After a foreclosure, the bank will issue a 1099-A to both you and to the IRS. A 1099-A (abandonment) legally enables the bank to come after you for an expensive deficiency judgment lawsuit. A short sale, however, is MUCH different. After a successful short sale, most banks will issue a 1099-C (cancellation) which is a legal cancellation of debt. Banks cannot legally come after you to collect any deficiency once they have issued a 1099-C. Banks will do everything in their power to threaten and intimidate, however, once a 1099-C is issued, you are on solid ground.* The above information is not intended as "legal advice" however, this information is available on the Internal Revenue Service web site and is available for all to research.* Many homeowners are unsure what to do, and are confused by endless television ads from bankruptcy attorneys trying to convince you that bankruptcy is your only option. Bankruptcy is the worst case scenario. Why go bankrupt if you don't need to? YOU HAVE MANY OPTIONS.
Is a Short Sale Right for You?
IT'S NOT YOUR FAULT THAT THE LAS VEGAS HOUSING MARKET CRASHED. You are NOT alone. When the mortgage bubble exploded, Nevada was ground zero. There is no reason to pay off $300,000 in debt when the home you bought is now worth $150,000. It makes rational sense to walk away and get a fresh start. Too many people refuse to recognize a mistake, and then they compound the mistake over and over by spending their entire life savings, 401(k)'s, retirement savings, and even borrow money from family to avoid accepting the reality of the situation.
Remember that until you have equity in your house, all you are doing is renting. That's correct! You are renting from the bank! Even with a loan modification, homeowners may have no equity in their homes for a decade or more. According to industry experts, it could take 10-20 years (or more) for the Las Vegas Real Estate Market to rebound. Unless you have equity in your home, you are better off selling your home through a short sale and buying another home down the road (that will likely cost HALF of what you paid!) The only difference between renting vs. making mortgage payments on a home with no equity is that if the roof leaks or the air conditioner goes out in the rental, your landlord pays for it. If anything goes wrong in the home you are paying the mortgage on, YOU PAY FOR IT. You also pay the homeowner's insurance and the property taxes. Why would you incur these expenses on behalf of the bank?
Nevada Short Sale Experts
JUST BECAUSE A REALTOR IS EXPERIENCED, DOES NOT MEAN THEY ARE EXPERIENCED WITH SHORT SALES. If you or a loved one were sick and in need of open heart surgery, would you go to a general doctor or would you seek the services of an experienced heart specialist? The same principle applies with real estate agents. Hiring a Realtor or Broker inexperienced with the short sale process could be disastrous. Banks are quick to take advantage of Realtors who are unfamiliar with short sale negotiation.
We recognize that the consequences of foreclosure can be devistating, and the decision in selecting a Real Estate firm to handle the short sale of your home is an important one. When interviewing a Realtor to do a short sale on your home, ask to see written proof of closings in their name. (Not closings in their office, company, or with other team members.) You may have friends or family who are Realtors, and you may feel a sense of loyalty to use them, however, do they have the experience to represent you properly? There are many real estate agents who have been licensed for a very long time, however, this does not mean they are experienced with short sales. You need a Realtor who can navigate through the challenges of TODAY's market. You need a Nevada Short Sale Expert.
The Myers Team charge NO FEES for a short sale transaction. Our services are 100% FREE. We NEVER charge document fees, transaction fees, storage fees, compliance fees or JUNK FEES like many other Brokers do. There are plenty of other Realtors out there who falsely claim to be the #1 Short Sale Realtor in Nevada or the #1 Short Sale Real Estate Team in Las Vegas. Who can you trust? The Myers Team has closed HUNDREDS of short sale transactions, and we will gladly provide verification of our extensive closings which document our track record of success. This is NOT a gimmick. The Myers Team is licensed by the State of Nevada to do what we do.
Additionally, BEWARE of other Realtors who claim to be "Certified Short Sale Specialists, or Certified Distressed Property Experts." In Nevada, you can become a "Certified Short Sale Expert or a Certified Distressed Property Expert" by attending a one day seminar. This would be like calling yourself a "HOME RUN EXPERT" after attending a one day class on "How To Hit a Baseball." There are many "Certified Short Sale Experts" running around town who have NEVER closed a short sale transaction. Letters and designations after your name do NOT make you successful in Real Estate. EXPERIENCE DOES. Who do you want representing your family?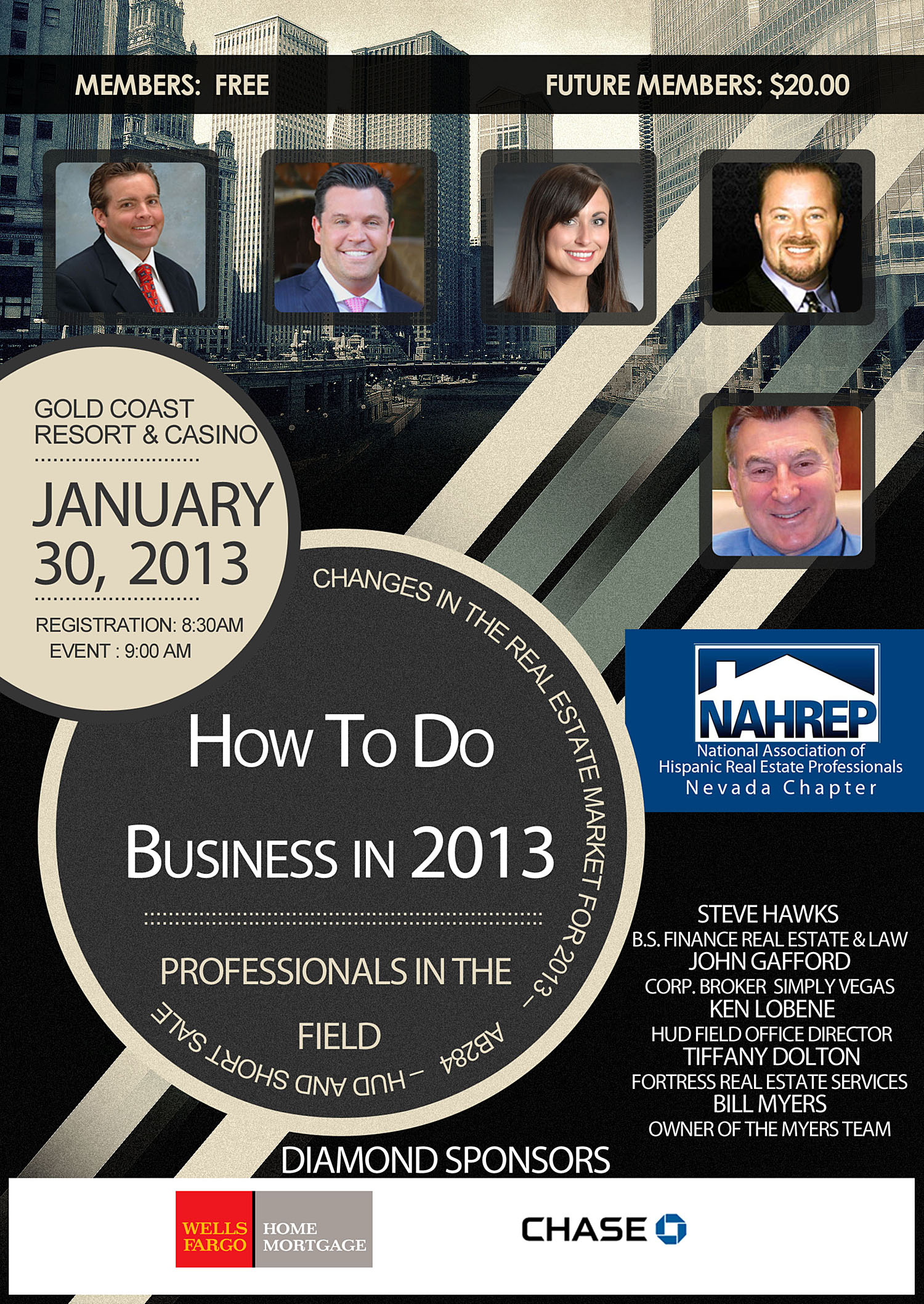 The Myers Team is Nevada's #1 Short Sale Team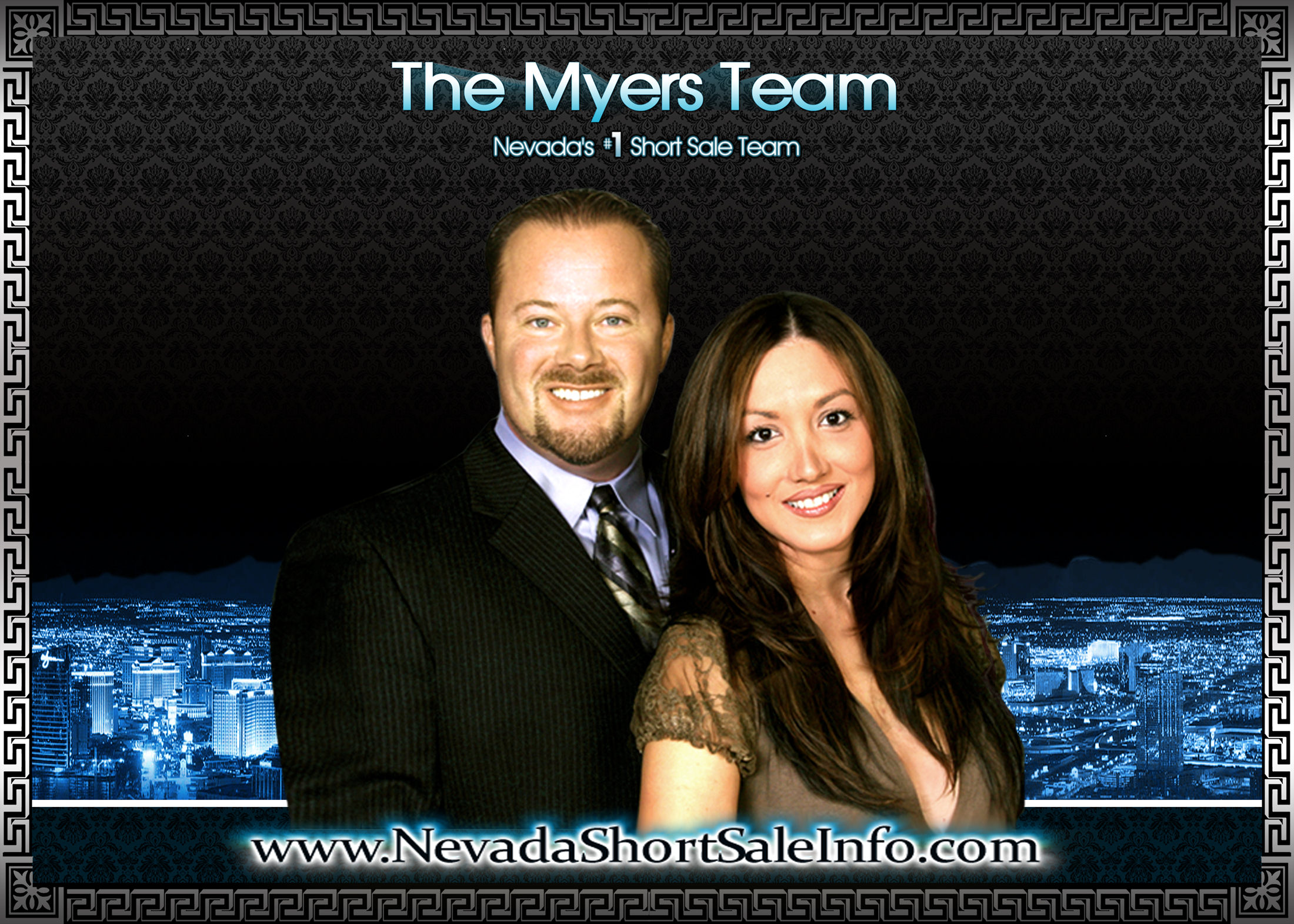 Be Careful What You Post On Facebook
In order to obtain short sale approval, homeowners must be able to convince their bank(s) that a legitimate hardship exists. Sellers need to be aware that banks and other debt collectors are using Google, Facebook, Twitter and other social media sites to see what information can be found out about you. It might be hard to convince a bank that you're experiencing financial hardship if you've recently posted photos of your latest vacation to Maui or Cancun on your Facebook page.

The goal of every short sale is to convince the Sellers lender to waive their right to pursue the deficiency balance. While many banks are now waiving their deficiency rights, this is never a guarantee. Why are some homeowners asked to re-pay the deficiency amount while others are fully released and not required to repay this debt? The answer can typically be found by looking at the strength of the hardship.

How do banks define hardship? Many people think that you must be "broke" to have a valid hardship. This is not true. A hardship exists when there is a decrease in income or an increase in expenses. The more legitimate the hardship, the greater your chances will be of obtaining short sale approval.

Homeowners must remember that information found on social media sites is often available for the public to view. While the information you post on Facebook and Twitter may be intended for your friends to see, it can also be viewed by attorneys, debt collectors and others with intent to cause you harm. It's important to monitor what you post, and have the appropriate privacy settings in place for your protection.
Nevada Short Sale Video
Watch The Myers Team On You Tube
Click the arrow below to see The Myers Team on You Tube.
Las Vegas Short Sale
Reasons To Consider a Short Sale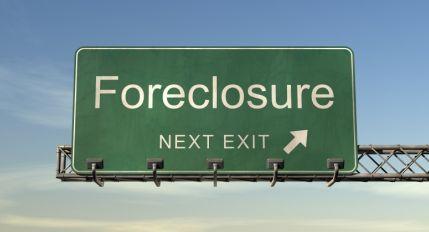 Q. Do you owe more than your house is worth?
Q. Are your mortgage payments too high?
Q. Is your monthly payment about to adjust?
Q. Have you been turned down for a Loan Modification?
Q. Have you lost your job, become ill, or lost a loved one?
Q. Do you want to WALK AWAY and not owe a dime?
Q. Are you experiencing financial hardship?
Q. Are you stressed and not sure what to do?
Q. Do you want to avoid foreclosure and get a "Fresh Start?"
Q. Are the banks calling and harassing you at work and home?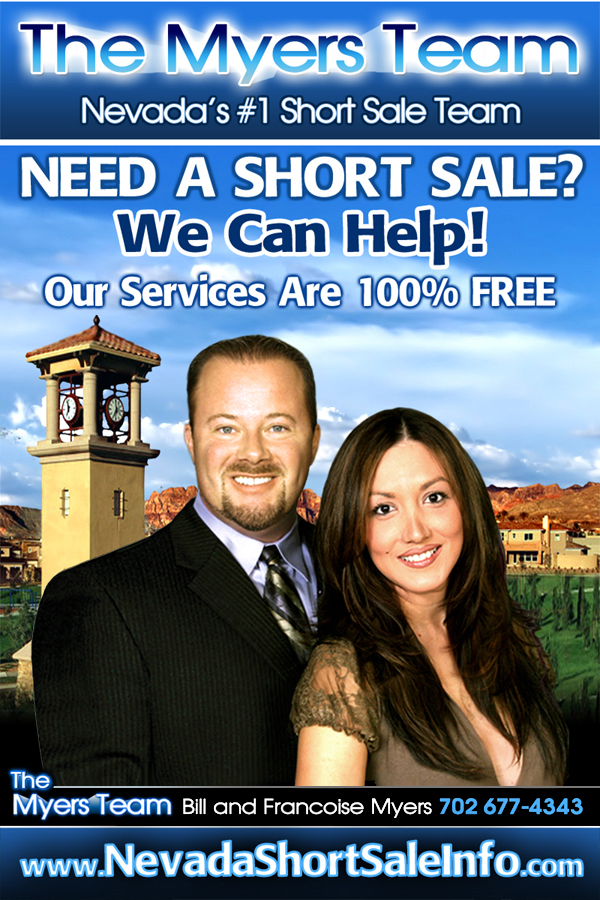 WHAT ARE THE SELLERS RIGHTS IN A SHORT SALE TRANSACTION?
Sellers in a short sale transaction have rights. The Realtor or Attorney you hire to short sale your home should specialize in seller representation and follow basic guidelines to ensure you are treated with dignity, respect, and your safety is not compromised. We have put together the following guidelines which we will present as a "SHORT SALE SELLERS BILL OF RIGHTS."
1. YOU HAVE THE RIGHT TO BE TREATED WITH DIGNITY
Surrendering a home worth half of what you owe is NOT a failure, it's a business decision. Nobody wants to lose their home; however, there is no need for you and your family to go down with a sinking ship. The Realtor or Attorney you hire to short sell your home will be getting paid a commission from the Sellers lender. You have the right to be treated fairly, respectfully and with the highest level of care.
2. YOU HAVE THE RIGHT TO PRIVACY
The person you hire should ask whether or not you want a "For Sale" sign placed in your yard. You are NOT obligated to use a "For Sale" sign. As soon as the sign goes up, your neighbors will likely ask questions such as, "How much are you selling your home for?" While some sellers don't mind these types of questions, why would you want to advertise to your neighbors that you are experiencing financial hardship and losing your home? Additionally, you are not obligated to do "Open Houses." With today's technology, most home buyers are searching for homes online on web sites like Realtor.com and Zillow. Yard signs are a great way for your Realtor to advertise their services, however, they do very little to help you find a buyer. When you work with The Myers Team, we will not use a yard sign unless you request one. We will not inconvenience you with Open Houses; however, we will upload to the internet a professional, full color, virtual tour of your home. This is like having an Open House 24 hours a day…7 days a week.
3. YOU HAVE THE RIGHT TO ASK QUESTIONS
The short sale process is a long process, and you will have many questions throughout the transaction. You should be able to ask any question you like, and get a prompt response. Some Real Estate and Attorney Offices are so overwhelmingly busy that going there feels like going to the DMV. Whomever you hire, Realtor or Attorney, you should have the ability to speak with them directly, and not be handed off to junior assistants. Emails and phone calls should be returned the same day. Additionally, bank loss mitigation departments work on Saturdays. Does your Realtor or Lawyer? When you hire The Myers Team, you will meet directly with us. You will have access to our email and cell phone numbers. You will have the ability to call us, text or email 7 days a week.
4. YOU HAVE THE RIGHT TO FULL TIME REPRESENTATION
Negotiating with banks is a full time job and a time consuming process. If you hire a Realtor or Attorney, how many hours per week will they spend on the phone negotiating your approval? Realtors who spend their afternoons driving buyers from property to property may not be able to devote sufficient time to your file. Additionally, Attorneys who have taken on too many clients may not have the time or manpower to represent you properly. You have the right to full time representation and shouldn't hire somebody so busy that their office feels like a "puppy mill." You need a Realtor who specializes in "Seller Representation." When you hire The Myers Team, our number one priority is getting your home sold and getting your short sale approved.
5. YOU HAVE THE RIGHT TO PROTECT YOUR HOME
With so many vacant homes on the market, there have been a record number of burglaries involving appliances stolen from homes. In many of these instances, there was no sign of forced entry. We recommend that EVERY home be listed with an electronic lockbox versus a mechanical lock box. What's the difference? An electronic lockbox is bought from the Greater Las Vegas Association of Realtors and the only person who can obtain access is a licensed Realtor or Appraiser, using an electronic key. The lockbox automatically tracks the name, license number, time of entry and exit, and digitally records the information of each person who has entered the home. Mechanical lockboxes, on the other hand, can be opened by anyone who has the 3 or 4 digit combination. It does NOT track who has entered the home and offers little protection for the home owner or their property. While it is forbidden for Realtors to give the mechanical lockbox code to anyone (i.e. home inspectors, repairmen, etc.,) this does not prevent some people from ignoring this rule and carelessly giving it out. We believe you should have a record of everyone who has entered your home. Additionally, your personal safety should be a top concern of the person you hire to sell your home. This is why you should demand an electronic lockbox and never allow a mechanical lockbox to be used.
Nevada Loan Modification Help
Short Sale vs. Loan Modification
FACT: There is no government program that forces lenders to modify your loan.
The banks have no legal obligation to change any aspect of your loan. This decision is completely voluntary. There are government programs which provide incentives for lenders and banks to modify, but lenders still make more money by foreclosing. Additionally, the banks can roll "legal fees" into your new modified loan, which were incurred during the modification and trial modification process. This means not only are you paying your previous loan balance, you are also paying additional lawyers fees, foreclosure extension fees, late fees, etc. While the media continues to promise HELP for struggling homeowners, the fact remains that banks are NOT modifying loans to current market value.
Banks may agree to temporarily modify your monthly payment and interest rate, however, most banks will NOT reduce your overall loan payoff. 30% of people who fall behind on their mortgages catch back up. This means that if the banks wait long enough, they know that you will borrow money from your 401(k), your credit cards, your family, or wherever else you can find it so that you catch back up on your mortgage. This is precisely why banks will not work with you until you are months behind on your house payments, after which, your credit has already been damaged. Additionally, almost half of the people who do receive modifications fall behind again within 6 months. The banks know there is a good chance that any effort it puts forth to modify your loan may result in a failure. This is why banks offer "trial modifications." The trial modification is just another tactic which banks use to trick you into paying additional mortgage payments (up to six months worth) before they deny your loan modification, or foreclose.
Remember if you are offered a loan modification, don't just focus on the monthly payment. Look closely at the terms of the loan.
1) What is the new principal?
2) Does the interest rate change during the life of the loan?
3) When does the interest rate jump back up?
4) What will the payment be at the end of the 3-5 year modification period?
Most modified loans fail for a reason, THEY ARE TERRIBLE LOANS. What is the point of modifying your loan for three to five years and then after the modification period is over, you're in the same position as when you started? The loan payment WILL jump back up, you won't be able to afford it, and home values are NOT going to double in the next five years. You will still have an upside down home where you owe more than it is worth? A modification that doesn't solve the problem, or leaves you living paycheck to paycheck is a BAD DEAL. The goal of a short sale is to offer you a FRESH START. Don't chain yourself to a massive pile of debt by accepting a home loan modification that doesn't help you rebuild your life and your future wealth.
Nevada Short Sale Mediation
Why Short Sale Mediation Doesn't Work
When homeowners get behind on their mortgage payment, many "so called" experts recommend that the homeowner should speak with their bank(s) through the "mediation process" to find the best solution. Please be advised that this may be the WORST thing you can do. BANKS ARE DEBT COLLECTORS. Banks do NOT represent you or your family in any capacity. At a mediation meeting, the bank will show up with their corporate Attorney. The Attorney (whose sole purpose is to represent the bank's best interests) will be quick to remind you that you signed a contract with the bank, and will explain that they have the legal right to sue you for a "deficiency judgement lawsuit" should the home foreclose. Additionally, the bank's Attorney may attempt to threaten you with wage garnishment and additional judgements or liens against you. The mediation process is NOT fun and very stressful. The banks' main objective with the mediation process is to see if they can intimidate you into resuming making your mortgage payments. The bank does NOT represent you, and they are NOT obligated to explain your real options. The Myers Team does not represent the bank. We are your advocate, and WORK HARD FOR YOU. Click here to see the truth about the mediation process It is critical that you understand your options, and speak with someone who represents YOU and your best interests. The bank does NOT represent you. They are NOT obligated to explain your options. They are only interested in what is best for their stockholders. Anything you say to the bank over the phone is being recorded to use against you. The Myers Team does NOT represent the bank. We represent YOU and ONLY you. We are experts in negotiating with banks, to find the best solution for you and your family.
Cash Back for Nevada Short Sales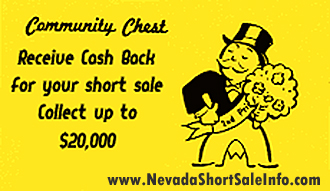 Can I Get Paid To Do a Short Sale?
In an effort to move troubled mortgages off their books, some banks have begun offering cash to delinquent homeowners so that they can sell their properties for less than they owe. No lender likes to do short sales, but many banks have decided that short sales are quicker and less expensive than foreclosing. In addition to offering cash incentives, banks have been pre-approving details, streamlining the process of closing and forgoing their right to pursue unpaid debt in the hope of getting through some of the backlog. At this point, more than 14 million homes (nationally) are in foreclosure, and the pending repossessions that have accumulated are standing in the way of improving the housing market. Some banks have been offering cash as an incentive to get homeowners to short sell, versus walking away from their home. If they qualify, some homeowners are walking away with up to $35,000 dollars. The banks that are offering cash incentives include JP Morgan Chase, Wells Fargo, and Citigroup, however, other banks and investors are offering incentives as well. Additionally, many buyers who purchased their homes using FHA loans have been receiving cash back at the close of the short sale process. While cash back is never a guarantee, the fact remains that each lender and investor is different.
Luxury High Rise Short Sale Experts
Short Sale vs. Foreclosure in Nevada
QUESTION: Isn't it Easier to Simply "Walk Away" and Allow the Home to Foreclose?
"Walking Away" from your home and allowing it to foreclose is a decision which could haunt you for many years. In Nevada, banks have Deficiency Rights associated with foreclosure and "Deed in Lieu of Foreclosure." This means that if a property is foreclosed upon, the bank retains the right to legally sue you for the difference. Banks have up to six months to file a deficiency judgement lawsuit against you, once your home has foreclosed, or is sold at auction after a "Deed in Lieu of Foreclosure." Banks may or may not choose to sue, however, if you decide to "walk away" from your mortgage obligation, then there are many factors which should be considered before you make a choice which may haunt you for years.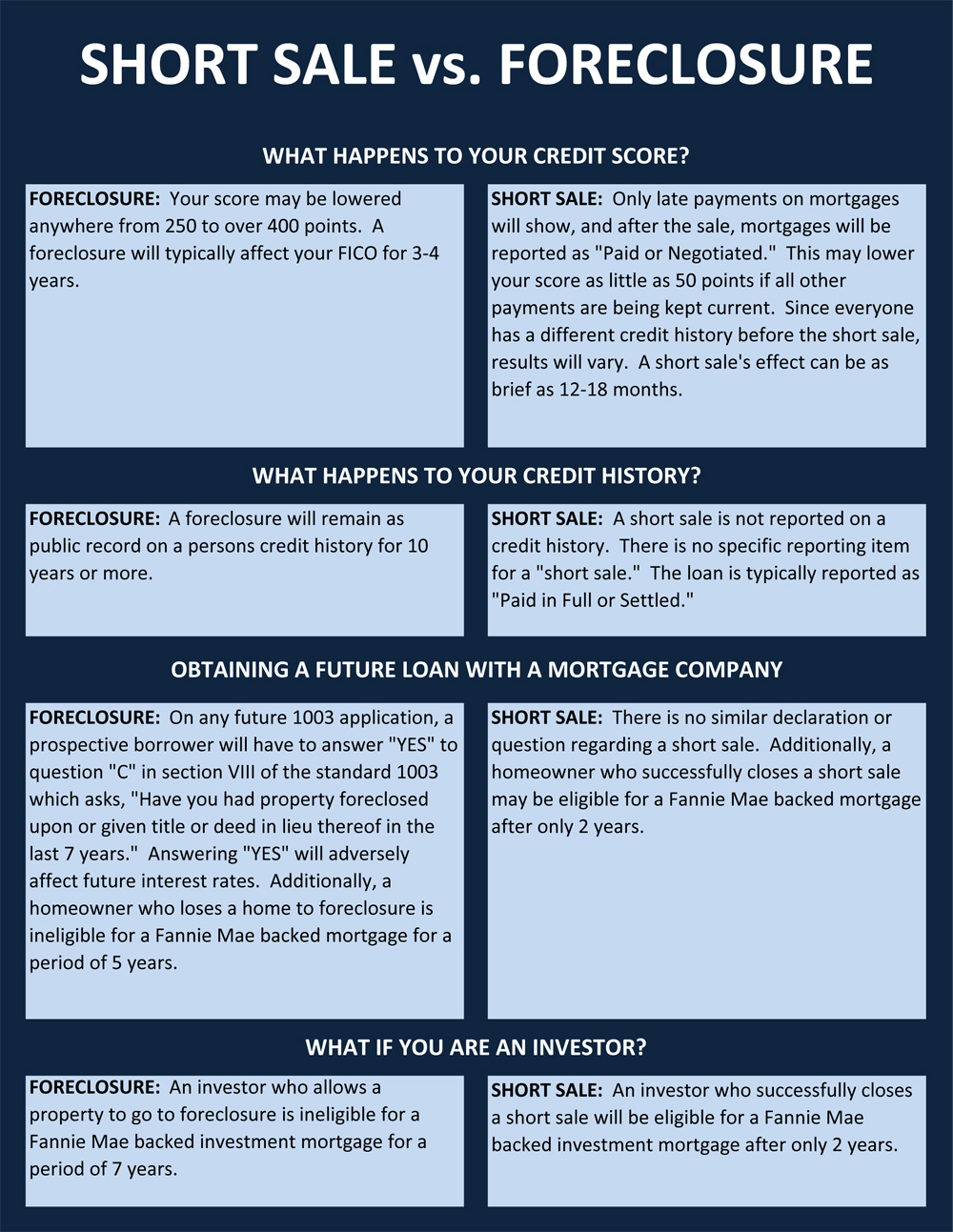 When Can I Buy Again After a Short Sale?
After the completion of a successful short sale, you may be able to purchase another home in as little as one year, compared to a foreclosure or a bankruptcy which can have a negative impact on your credit for 7-10 years.* The difference between a short sale and a foreclosure is substantial. At the conclusion of a short sale, you may be allowed to walk away from the home, without owing the difference between the original loan amount and the current market value of the home. Additionally, banks typically report to all three credit reporting agencies that your account has been "legally settled short of full payment." A short sale shows responsibility on your credit because you made a choice to cooperate with the lender, versus abandoning the property and allowing the home to foreclose. Most banks agree to release their deficiency rights after the completion of a short sale. Additionally, a short sale minimizes the damage to your credit. A foreclosure is devastating to your credit score. After a foreclosure, banks continue to post "late payments" on your credit, even months after the home has foreclosed. This can reduce your FICO up to 400 points. With a short sale, the banks typically report that the account has been "settled short of full payment." This minimizes damage to your FICO, and allows you to begin rebuilding your credit.
HAD ENOUGH?
IT'S TIME TO REALTOR UP!

Nevada Short Sale Solutions
Why Short Sales Work in Las Vegas
There are many Nevada Short Sale Solutions. When homeowners can no longer make their mortgage payments, lenders don't want to foreclose. Short sales benefit both homeowners and lenders, and can be the ultimate "Win-Win" solution.
Short Sales Benefit Las Vegas Homeowners
Serious financial problems are typically due to unpredictable, uncontrollable events (i.e. divorce, death, job loss, reduced work hours, etc.). Adding the trauma of foreclosure to an already stressful life situation can create an enormous burden for the homeowner. The foreclosure process is long and painful. It is embarrassing and demoralizing. It can destroy credit for seven to ten years. It can even result in a lawsuit. Foreclosure offers a bleak picture of the future for the homeowner.

Although the end result of a short sale is similar to foreclosure (the borrower is going to lose their home) the short sale process is a great deal less traumatic than the foreclosure process.
Short sales offer the homeowner greater control and the ability to maintain dignity and privacy while getting out from under the weight of debt. Borrowers who go through a short sale can also begin planning optimistically for the future because the damage to a borrower's credit will be minimized.
These types of losses are also viewed more favorably by lenders and business associates in the future because the borrower worked out an agreement with the lender and did not simply "walk away" from his or her creditor.

Short Sales Benefit Lenders
The foreclosure process costs lenders an average of 20-30 percent more than a short sale. In a short sale, the lender recognizes that a loss on the loan is likely and is motivated to decrease those losses as much as possible. (a.k.a. Loss Mitigation) Because the management and sale of the property remains in the hands of the borrower, a short sale decreases the time a lender must spend "managing" a problematic loan in their portfolio. It also eliminates all costs associated with the legal foreclosure process, maintenance, refurbishment, marketing, and re-selling the property after the foreclosure. Short sales are usually finalized at a faster rate than foreclosure so underperforming loans can be removed from the lender's books with greater expediency.
The lender is looked upon more favorably by the public when it is perceived as having worked with the borrower to prevent a foreclosure rather than having forced a resident out of the home.
Additionally, when a lender agrees to cooperate with a borrower in distress, the borrower is less likely to "harm" the home. Recent news stories have shown homeowners who have literally "destroyed" their own homes due to frustration with the banks unwillingness to cooperate with homeowners attempting short sales. When a home is foreclosed upon, it is rarely sold at auction. Typically, after a home forecloses, the bank must take possession of the property and then try to sell the home as "Bank Owned." These properties are commonly referred to as "REO" (Real Estate Owned) properties. Once a bank takes possession of the home, they must incur a variety of expenses to make the home "sellable" (i.e. paint, carpet, landscape, etc.) When disgruntled homeowners vandalize homes, this can get quite expensive for banks and their investors.

Short Sales Benefit the Las Vegas Community
In most short sale situations, the homeowner continues to live in the home until it is sold. This not only decreases the number of vacant homes in a neighborhood, but the property also continues to receive regular maintenance, such as lawn care. The local homeowner associations (HOA's) also benefit as the homeowner continues to pay taxes and HOA dues during occupancy. By reducing the number of vacancies in a neighborhood, this reduces crime and the temptation for robbery. When homeowners have pools, and are able to remain in their homes, the pools are typically maintained until the short sale records. This also benefits the community because abandoned pools pose environmental threats as well as serious dangers for small children. When banks cooperate with short sales, everyone benefits. When banks foreclose, the entire community suffers.

Viewed from a wider perspective, short sales lower the number of foreclosures, which may help lessen the downturn of the housing market and improve the U.S. economy. Additionally, borrowers who are foreclosed upon are unable to obtain credit for many years following a foreclosure, which decreases their buying power and ability to put money back into the economy. Because a short sale has a less dramatic impact on a borrower's credit, he or she will be able to continue as a consumer, helping the economy out of the recession.
Myers Team Short Sale Help
Where Do I Live After the Short Sale?
The rental market is currently a "tenants market." There are more rental homes available than ever, with landlords willing to cooperate with tenants who have sold their home through a short sale. Remember, people who "walked away" from their home and allowed it to foreclose might do the same thing with a lease. They pose a much greater risk for a landlord. Short Sale sellers show responsibility.
We understand that this may be a very stressful time for you and for your family. Our job is to get between you and the bank, and put you back in control. We are very concerned about your family, your pride and your well being. We will list your home with NO yard sign, NO flyers and with complete confidentially. Your neighbors don't need to know. Additionally, our services are 100% free to homeowners. So whether you're buying or selling, feel free to contact us and we will be happy to assist you with all your real estate needs.
"Life is not about waiting for the storm to pass. It is about learning to dance in the rain."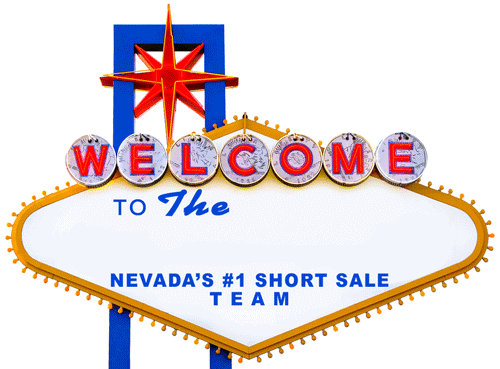 Areas of Las Vegas, NV
Clark County Nevada Luxury Short Sale Help

Summerlin Nevada Stop Foreclosure

North Las Vegas Nevada Short Sale Realtor

Henderson Nevada Short Sale

Desert Shores Nevada Short Sale Expert

Red Rock Country Club NV Luxury Short Sale Help

North Las Vegas NV Stop Foreclosure

Spring Valley Nevada Short Sale Specialist

Queensridge Nevada Luxury Short Sale Help

Southern Highlands Nevada Stop Foreclosure

Anthem Highlands Nevada Short Sale Realtor

The Ridges Nevada Short Sale Expert

Downtown Las Vegas Nevada Short Sale

Painted Desert Nevada Short Sale Specialist

Pulte Nevada Short Sale

Canyon Gate Nevada Luxury Short Sale Help

Mountains Edge Nevada Stop Foreclosure

Rhodes Ranch Nevada Short Sale Realtor

The Lakes Nevada Short Sale

Sun City Summerlin Nevada Short Sale Expert

Green Valley Nevada Stop Foreclosure

Lake Las Vegas Nevada Luxury Short Sale

MacDonald Ranch Nevada Short Sale

Silverado Ranch Nevada Short Sale Specialist

Silverstone Ranch Nevada Luxury Short Sale Help

Section 10 Nevada Short Sale Expert

Sunrise Mountain Nevada Short Sale Realtor

Aliante Nevada Stop Foreclosure

Traccia Nevada Luxury Short Sale Help

Toll Brothers Nevada Short Sale
"Experience is Not Expensive...It's Priceless."
* #1 Status is based on production by non-lawyer affiliated Realtors and Brokers from January 1, 2007 through December 31, 2012. (listing ends only) The information provided is obtained from public records, it is deemed reliable but not guaranteed. The Myers Team does not guarantee that all home owners will be able to purchase a new home in one year or less. This will depend upon many factors, including your credit history before the short sale. Not all clients will qualify for a short sale. Not all clients will be eligible for the advertised services contained in this web site. Not everyone will qualify for Government assistance programs such as HAFA. Banks are not required to participate in the HAFA program. Restrictions apply. Nevada state law (NRS116.4109) requires sellers to provide and pay for a homeowners association resale package. If you live in a home with one or more HOA's, there may be state mandated fees required to comply with Nevada State Law, and homeowners will be required to provide a buyer with all CIC disclosures. The Myers Team are NOT lawyers, nor qualified to give legal advice of any nature. The Myers Team are NOT accountants, CPA's nor qualified to give tax advice. This web site is not intended to offer legal advice and all information contained in this web site is for information purposes only. All Myers Team clients are encouraged to seek the advice of a real estate attorney, and/or a qualified CPA. All of the information contained in this web site is subject to change. All site software, design, text, images, photographs, illustrations, audio clips, video clips, artwork, graphic material, or other copyrightable elements, and the selection and arrangements thereof, and trademarks, service marks and trade names (the "Material") are the property of The Myers Team™ and/or its subsidiaries, affiliates, assigns, licensors or other respective owners and are protected, without limitation, pursuant to U.S. and foreign copyright and trademark laws. The Myers Team™ hereby grants you a personal, non-exclusive, non-assignable and non-transferable license to use and display, for noncommercial and personal use only, one copy of any material and/or software that you may download from this Site, including, without limitation, any files, codes, audio or images incorporated in or generated by the software provided that you maintain all copyright and other notices contained in such Material. You agree not to reproduce, modify, create derivative works from, display, perform, publish, distribute, disseminate, broadcast or circulate any Material to any third party (including, without limitation, the display and distribution of the Material via a third party web site) without the express prior written consent of The Myers Team™. Use of http://www.NevadaShortSaleInfo.com and/or http://www.VegasShortSaleInfo.com and/or http://lasvegaslist4less.com and/or its licensors' Material is only permitted with their express written permission. You further agree that you will not disassemble, decompile, reverse engineer or otherwise modify the Material. Any unauthorized or prohibited use may subject the offender to civil liability and criminal prosecution under applicable federal and state laws.
SIMPLY VEGAS
3042 South Durango Drive
Las Vegas, NV 89117